Air quality and Co2 monitoring by Co2 display
Current events have made us aware of the importance of the quality of the air we breathe in our premises.CO2 monitoting devices are instruments used to measure the concentration of carbon dioxide in the air. CO2 is a greenhouse gas in the atmosphere. Measuring the concentration of CO2 can be useful for assessing the air quality in a given environment and identifying sources of pollution.
CO2 monitoring, Co2 display, with temperature and DB, PPM etc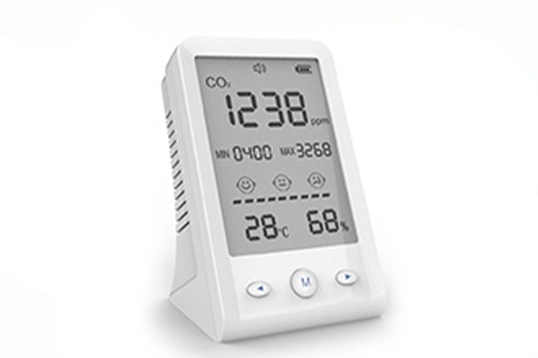 Tabletop device made of white PVC, design, with clear and visible digital display for the control and measurement of CO2, temperature and humidity and indication by "emoticons" of the good air quality.
Alarm threshold " beep " adjustable by the user at 800, 1000, 1200 or the desired value.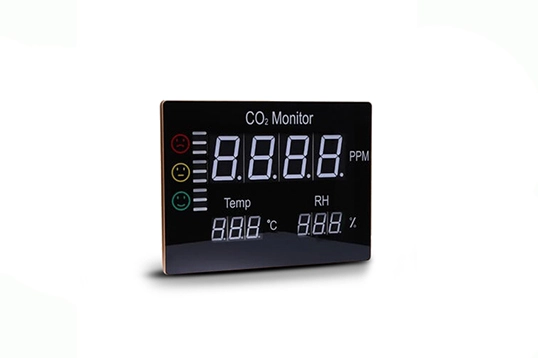 HRCo22008HT
wall Co2 controler
Wall-mounted device but can also be placed on a table or shelf, with clear and visible display for Co2, temperature and humidity control and indicator by "emoticons" and bars on the side of the good air quality. This device can be linked with a alarm or access control system to limit the number of people in a room.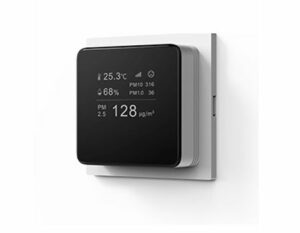 Our wide range of CO2 measurement, CO2 control.
It is intended for companies and institutions concerned about the health of their workers.
We already offer here some CO2 display and sensor devices, to control, display, detect CO2 measurement, PHP etc.
We also offer air purification equipment because measuring is good, taking measurements downstream is better
There are many different types of CO2 measuring devices, which can be used depending on the needs and constraints of the application.
Portable or on the wall? Portable devices are often used to measure CO2 concentration in restricted environments, such as classrooms (see the Co2 directive for schools of the Walloon-Brussels federation ) or offices.
Stationary devices, on the other hand, are used to measure CO2 concentration in larger environments, such as factories or shopping centers.
CO2 meters are devices that measure the level of carbon dioxide in ambient air. These displays are increasingly common in public and private buildings as they allow monitoring of indoor air quality and taking action to improve ventilation and reduce health risks to occupants.
CO2 meters work by measuring the concentration of CO2 in the air and displaying this information in digital form. Some models can also display graphs showing changes in CO2 concentration over time. 
CO2 displays can be standalone or connected to a ventilation system to automatically adjust the flow of fresh air based on CO2 levels.
By monitoring CO2 levels, the displays help detect areas where ventilation is poor and where occupants may be exposed to high levels of CO2.
 Studies have shown that high levels of CO2 in indoor air can have negative effects on the health and well-being of occupants, such as headaches, fatigue and reduced concentration.
In conclusion, CO2 displays are important tools for guaranteeing indoor air quality and ensuring the health and well-being of occupants. They allow CO2 levels to be monitored and actions to be taken to improve ventilation, which can have benefits for both the health and productivity of occupants.
More about the regulation in UK