Turnstiles and access gates
Turnstiles, swing gates, airlocks and revolving doors are the solution for controlling the flow of people into buildings, for access control and for checking in employees or visitors. They are used in companies but also during big events in stadiums or big public halls, stores, malls, shopping centers etc. They can also be used to control the number of people present in a space, a room, a hall, or even access to public transport.
Turnstiles access control, our solutions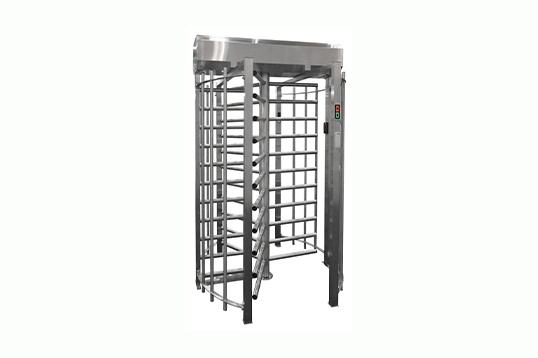 Large drum turnstile with 3 or 4 "combs" either at 90° or 120°. The 3-comb configuration is the normal access usage, and 4-comb, to restrict space and prevent two people from passing.
The turnstiles work in "autonomous" or controlled by a software or 'module', see page on the page "clocking software".
Turnstiles is another type of pedestrian barriers. 
Largely these security doors are used for outdoor or indoor application within project of highest security / vandal proof requirements. Herewith only indoor application also can be considered. 
The range of security gates includes both single and space saving double lane modifications. Solutions for wheelchair, bicycle, or large belongings passing. We can provide a wide range of "turnstiles"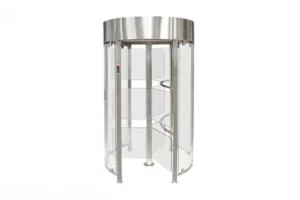 Also, customers is able to make a decision based on drive principle: electro mechanical, motorized, or fully mechanical. Full height security turnstiles are available in different metal and metal treatment types, including materials reliable for severe climate conditions.
Turnstiles is most of te time integrated with any type of access control system  monitoring software solution and ID equipment.
Many different types on https://tiso.global/ua/
Glass turnstile is an ideal solution for an internal security door.
The operating principal is similar to a full height glass turnstile with the main difference being the glass blades and stainless-steel canopy, which provide a more aesthetically pleasing solution for security access within a building.
Turnstiles with glasses can be controlled by various access control methods including bio metrics, card readers or via the manual control panel.
Other options include full height glass blades making Glass Turnstile a great low-cost alternative to portals and security revolving doors. When power goes OFF both directions are closed.
Tripode Turnstile is a robust and reliable model of the tripod turnstile series. This model will efficiently control the entrance even in intensive pedestrian flow mode, making it suitable for heavily used sites like stadiums, industrial plants or factories.
Design of this tripod barriers for access control is sleek and elegant, with a choice of housing finishing options it will fit perfectly in both modest interiors as well elegant office buildings. Robust design and high quality materials will ensure reliable operation for years.
To overcome the potential problem of crowding in an emergency the automatic tripod turnstile has a drop arm function.