Time clocks & time recorders, time stamps
The modern time clocks or time recorders, time clocking machines print the "in" and "out" hours on a monthly or weekly cards, with or without totals calculation. Time stamps print on any document and are used in laboratories, workshops, mail reception etc. 
Conventional time machines for the "time and attendance", time recorders with "cardboard" cards (per month or week) + time stamps, workshop and laboratory to print dates and times + messages if needed.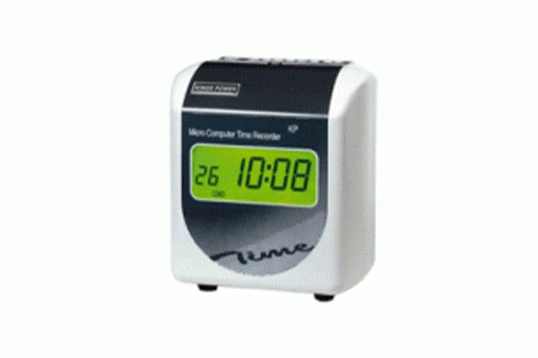 Electronic time clock with cardboard card, digital time display, programmable column change, with ringing relay, two color printing of delays or early departures in red. This programming of the passage from column to column is defined by the working hours of the morning, afternoon and overtime. A great way to manage hours.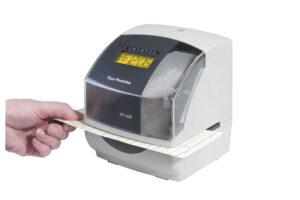 Time clocks are a daily tool for managing employees' time, attendance and performance.
Nowadays, the advantages of card or biometric time clocks are recognized and numerous in the management of work. Even a simple device is already very useful to manage attendance times. They have "print in red" and "automatic column switching" options to ensure ease of management.
Originally developed by employers to determine the payroll, time clocks are no longer confined to this single role. Time clocks can record the start and end of a task, or just a duration; they can also contain the entire list of tasks to complete a project or program. This information can be used for pay slips, customer invoices …
Utility:
First, they allow you to accurately record the hours worked by each employee, which can be useful for billing or resource management.
They can also be used to manage work schedules and absences, which can facilitate assignment and task planning.
Other functions:
A time clock can also be used to track costs related to time spent on different projects, which can be useful for budgeting and scheduling. They are in fact also dateers, called "stampers".
Finally, they can also help improve employee productivity by allowing them to track the time spent on each task.
Device selection:
There are many models of card clocks on the market, offering different features and interfaces. Companies can choose the system that best suits their needs based on their size, industry and constraints.
In short, card clocks are useful systems for recording employee hours and managing work schedules and absences. The biometric time clocks you have to see on the page of the terminals-of-pointing/
They can be used to track costs related to time spent on different projects and improve employee productivity.
Useful information:
Originally developed by employers to determine the payroll, time clocks are no longer confined to this single role. Time clocks can record the start and end of a task, or just a duration; they can also contain the entire list of tasks to complete a project or program. This information can be used for pay slips, customer invoices …
=> Belgium: Management of overtime, shifts and work regulations
=> France: staff-scoring