Description
Interactive whiteboards
These electronic whiteboards integrate screen-sharing functionalities, enabling participants to connect remotely and contribute in real time.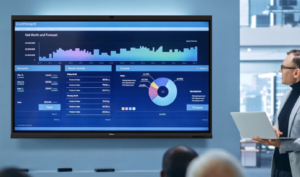 More than just a presentation tool, the electronic whiteboard becomes a collaborative hub, encouraging the exchange of ideas and collective decision-making.
They are revolutionizing the way we present and collaborate.
These interactive surfaces combine the simplicity of the traditional whiteboard with the power of digital technology. Featuring an intuitive touch screen, they enable presenters to bring their ideas to life with a simple touch.
Annotations, drawings and diagrams come to life under the user's fingers, captivating the audience and facilitating understanding of complex concepts.
Easy deletion and digital content backup simplify information management. No more time wasted taking photos of physical boards; now meeting notes are instantly available in digital form, ready to be shared or archived.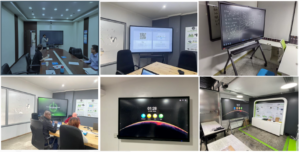 ZKTeco's 4K digital interactive whiteboard aims to promote the sharing of inspiring knowledge in business and educational environments. The integrated meeting solution of the ZK-IWBM series offers screen sharing, whiteboard writing and remote video conferencing, all of which enhance collaboration.
The ZK-IWBP series is an enhanced version of the ZK-IWB interactive whiteboard, adding split-screen display, optical character recognition (OCR) and a C-type interface to improve meeting efficiency and presentation productivity.
Available in 65″ (1651 mm), 75″ (1905 mm) and 86″ (2184.4 mm).